Shopping Cart
Your Cart is Empty
There was an error with PayPal
Click here to try again
Thank you for your business!
You should be receiving an order confirmation from Paypal shortly.
Exit Shopping Cart
Detox and Immune System Support
Why is this helpful to the health of my clients?
The stream of electrodes, along with specific sound, light, and vibrational frequencies produced by the Lymph  Drainage XP2 penetrate 4 to 6  inches into the body, quickly eroding blockages, decongesting the lymph and creating normalization of health enhancing lymph flow.
How does the lymphatic fluid begin to flow better?
 The noble gases of Argon, Xenon and Krypton in a 1:1:1 ratio get excited when electricity is introduced, thus causing a vacuum response to the lymphatic fluid, gently pulling it through the lymphatic vessels as it helps the body to detoxify.
How is electro-lymphatic drainage different than manual lymphatic drainage? 
Electro-lymphatic drainage can do what manual lymphatic drainage can do, but in fewer sessions. One session of electro-lymphatic drainage can replace up to 6-8 sessions of manual lymphatic drainage. Additionally, electro-lymphatic drainage can reach the deeper lymphatic system of the gastrointestinal tract, where manual lymphatic drainage may be limited.
To learn more about adding electro-lymphatic drainage to your practice, please                                  contact Kathy at (847) 987-1554. 
ATTENTION
: All spa owners, chiropractors, homeopaths, naturopaths, nurse practitioners, physical therapists, occupational therapists and massage therapists: Have you considered adding more of a wellness component to your clinic or practice? We have a machine that helps bridge the transition to a health and wellness practice. Our state of the art equipment, the
Lymph Drainage XP2 is now available for sale!!!
Two full days of comprehensive training on how to use the machine to effectively drain the lymphatic system will also be offered.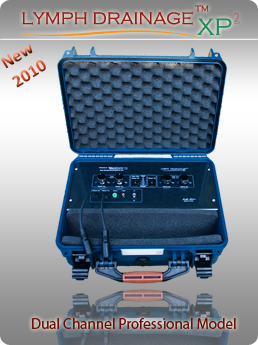 What exactly does the Lymph Drainage XP2 do?  
The Lymph Drainage XP2, is a revolutionary state of the art, safe and effective electronic -lymphatic drainage instrumentation. Each session is equivalent to eight to ten manual lymphatic drainage sessions. The Lymph Drainage XP2 leaves the client with NONE of the soreness that could result with manual lymphatic massage.
The Lymph Drainage XP2 is a vibrational energy technology. As such it emits "information" to the energy field of the cells via harmonics of sound and frequencies of light. It produces this information by way of something called "noble gas ionization." There is a long tradition of research into the energetic effects of these noble gases. An optimal mixture of xenon, argon, and krypton is enclosed in Pyrex glass tube. The gases are excited by electrical current. While the client lies comfortably on a massage table, the Lymph Drainage XP2 is applied by placing the transmission head, or heads on the body and gently moving them over the skin. An energy field, or plasma, then radiates from the tube onto the skin and is conducted through the entire bio-energy system. Proteins are re-polarized causing retained fluid and congested areas to FLOW. Stagnation is reversed and the lymph system is now free to perform its cleansing functions! Detoxifying and enhancing immunity leaves the client feeling calm and rejuvenated.
  To discuss ordering your Lymph Drainage XP2 today, call Kathy O'Reilley at (847) 987-1554.
/