Shopping Cart
Your Cart is Empty
There was an error with PayPal
Click here to try again
Thank you for your business!
You should be receiving an order confirmation from Paypal shortly.
Exit Shopping Cart
Detox and Immune System Support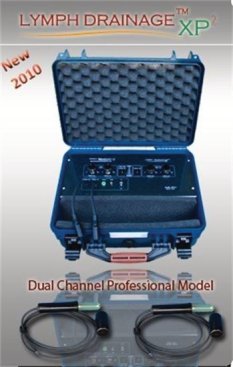 ATTENTION: ALL SPA OWNERS, CLINIC OWNERS, CHIROPRACTORS, NATUROPATHS, MASSAGE THERAPISTS, NURSE PRACTITIONERS AND PHYSICAL THERAPISTS:
Learn how  to detoxify the body using the Lymph Drainage XP while enhancing the immune system for your clients and patients. Complement your own protocols with this amazing detox modality and your customers will be giving you rave reviews!!! 
We have a Lease With Option To Buy program available for our Lymph Drainage XP2. Payment options are very reasonable and it is an excellent way to start adding  assisted lymphatic therapy to your current practice today!!!
Why Offer Assisted Lymphatic Therapy in Your Current Practice?
Your lymphatic system is actually a vital circulatory system with an extensive network of vessels throughout the body. Unlike your venous system, your lymphatic system has no pumping mechanism to keep the fluid circulating through the body other than exercise.While manual lymphatic drainage has been a very beneficial therapy for those suffering from conditions associated with an impaired lymphatic system, it does have the limitation of mainly affecting the surface areas. In most cases, the real problem lies deep in the body at the "rivers" of lymph. If you have an obstruction in the "river", just moving the tributaries will not produce the most effective results.

Lymph Drainage XP2 is advanced ionized nobel gas technology at its best.
Why is this helpful to the health of my clients?
The stream of electrodes, along with specific sound, light, and vibrational frequencies produced by the Lymph  Drainage XP2 penetrates 4 to 6 inches into the body, quickly eroding blockages, decongesting the lymph and creating normalization of health enhancing lymph flow.
To learn more how to get started, call Kathy O'Reilley today at: (847) 987-1554
ATTENTION SPA OWNERS, CLINIC OWNERS, MASAAGE THERAPISTS, PHYSICAL THERAPISTS, OCCUPATIONAL THERAPISTS, NATUROPATHS, PHYSICAL TRAINERS, CHIROPRACTORS AND/OR NURSE PRACTITIONERS: If you are looking for a great detoxification modality to add to your current or upcoming practice or business, electro-lymphatic drainage may be the way to go!!! Electro-Lymphatic Therapy (ELT) sessions usually last about one hour and the average fee for the therapy is $85 per session (this varies based on your geographical region). A good rule of thumb is ELT costs about 10-15% more than a one hour massage. Note for massage therapists: Just think, you could give yourself a 10-15% raise and rest your hands by including this therapy in your practice. For those of you not familiar with massage therapy rates, you can check around in your area for the average cost of a massage to get a better understanding of the earning income.
  If you invest $6,495, you could pay off your investment with less than 77 sessions . Even if you only performed only 4 ELT sessions per week in addition to the other modalities that you already offer, you would have your machine paid off in 4-5 months, and then the rest would be pure profit.
  For therapists who can perform up to 6-8 ELT sessions per day, within a month or two, you could easily recoup your investment and from then on you'd be working for pure profit, making more than $80.00 per hour. Imagine the revenue stream generated if you have 2-3 therapists in your health care facility performing ELT sessions.
  Income tips and suggestions for ELT: As you can see, the opportunity is unlimited, especially for home health care providers since your overhead is limited just to the travel expenses to your client's home.We have several therapists who rent space from health care offices at multiple locations, at either a percentage of their gross or flat fee. When first starting out, we suggest you negotiate a percentage with the health care office (short term contract) which allows you greater flexibility while you build up your clientele. With this approach, your health care office has incentive to refer clients to you since they get a percentage of the income generated from your practice. Once you become well established, then you would want to switch to a flat fee if at all possible or actually open your own facility.If you are wanting to work part-time only, you can often rent space from other health-care providers for $150-$200 per month for each day that you want to rent office space. For instance, if you want one day per month it would be $150-$200 per month, two days $300-$400 per month, etc. It's Important for you to know when negotiating a space with a health-care provider that you either pay a percentage of your gross or you pay rent – not both.
  Own your own equipment: Lymph Drainage XP™has dual channel technology. With this feature, each transmission head is individually powered and controlled allowing for more precise and targeted therapy.The Lymph Drainage XP2™ is priced at $6,495. Leasing options are also available. Have questions? Ready to make a purchase?  Call Kathy today at 847.987.1554 to add a high quality detox. modality to your practice today!!!
The products and statements shown on this website have not been evaluated the U.S. Food and Drug Administration. Statements are for educational purposes only and are not intended as advice for any diagnosis, treatment, cure, or prevention of any disease.
I just wanted to let everyone know that there is a $500 OFF SALE on the LymphDrainage XP2 until Friday, Feb. 13, 2015.  If you've been considering adding lymphatic drainage to your practice or spa/clinic, this is a great time to buy!!! If you are interested in buying your LymphDrainage XP2 today, please call Kathy today at (847)987-1554.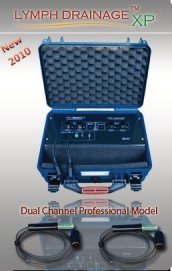 /