Shopping Cart
Your Cart is Empty
There was an error with PayPal
Click here to try again
Thank you for your business!
You should be receiving an order confirmation from Paypal shortly.
Exit Shopping Cart
Detox and Immune System Support
Since we are offering ONLINE TRAINING to become certified in Assisted Lymphatic Therapy, I want to add some of the many benefits of this amazing detox modality. If you would like more info. on our upcoming monthly online 2 day classes, please contact Kathy O'Reilley directly at (847) 987-1554.
The applications of Lymph Drainage Therapy are numerous:
Circulation of lymph, blood capillaries, veins, interstitial liquids and cerebrospinal and synovial fluids (in-directly) is activated. This action helps to reroute stagnant fluid in the skin (i.e., edema, primary and secondary lymphedema), mucosa, muscles, viscera, joints, cranial sutures, periosteum, chambers of the eyes and cochlea.
Toxins are removed, making lymphatic drainage especially effective in tissue regeneration.
Scars, stretch marks, wrinkles and fracture, or surgical-incision sites, are improved.
Macromolecules (proteins) are drained, which helps to eliminate protein-rich fluid from the extracellular tissues and aid the reabsorption of edema.
Fats are evacuated through lymphatic vessels. These vessels are in virtually every area of the body where fats may accumulate.
The functioning of the immune system is stimulated through increased lymph flow. The additional flow carries more antigens to the lymph nodes, thereby increasing antibody/antigen contact. This has been found to help with chronic or subacute inflammatory processes -- chronic fatigue syndrome, autoimmune disease, bronchitis, sinusitis, tonsillitis, laryngitis, arthritis, acne and eczema.
The functioning of the parasympathetic system is bolstered, and sympathetic tone is diminished with stimulation of the lymphatics -- the "fight or flight" response.
This can be very helpful in dealing with stress, depression and sleeping disorders.
Chronic pain is reduced as the drainage alleviates tissue-fluid stagnation and possibly inhibits nociceptors (pain receptors).
Voluntary and involuntary muscle spasms are reduced, proving helpful in cases of constipation and other muscle-related maladies.
Balances the neurotransmitters.
Balances the hormones.
Increases energy and restores refreshing sleep.
[Excerpts from above article taken from the article Assisted Lymphatic Therapy by Dr. Jennifer Gardner Gramith, ND, CLT March 9th, 2018]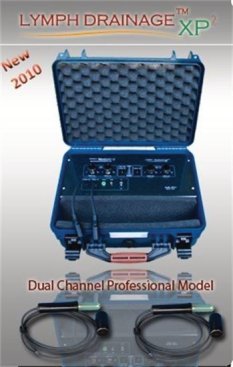 Are you a natural health practitioner that is interested in adding the amazing detox modality of Assisted Lymphatic Therapy to your current services? We are offering ONLINE training Sept. 24th and 25th with certification! The cost is $995 - but if you take advantage of Early Bird special, you can take $100 OFF! If these dates don't work with your schedule, contact us TODAY to schedule upcoming training dates. Please call or text me directly at (847) 987-1554 for more details.
/